Client Showcase: Do This First Bootcamp
Aug 22, 2022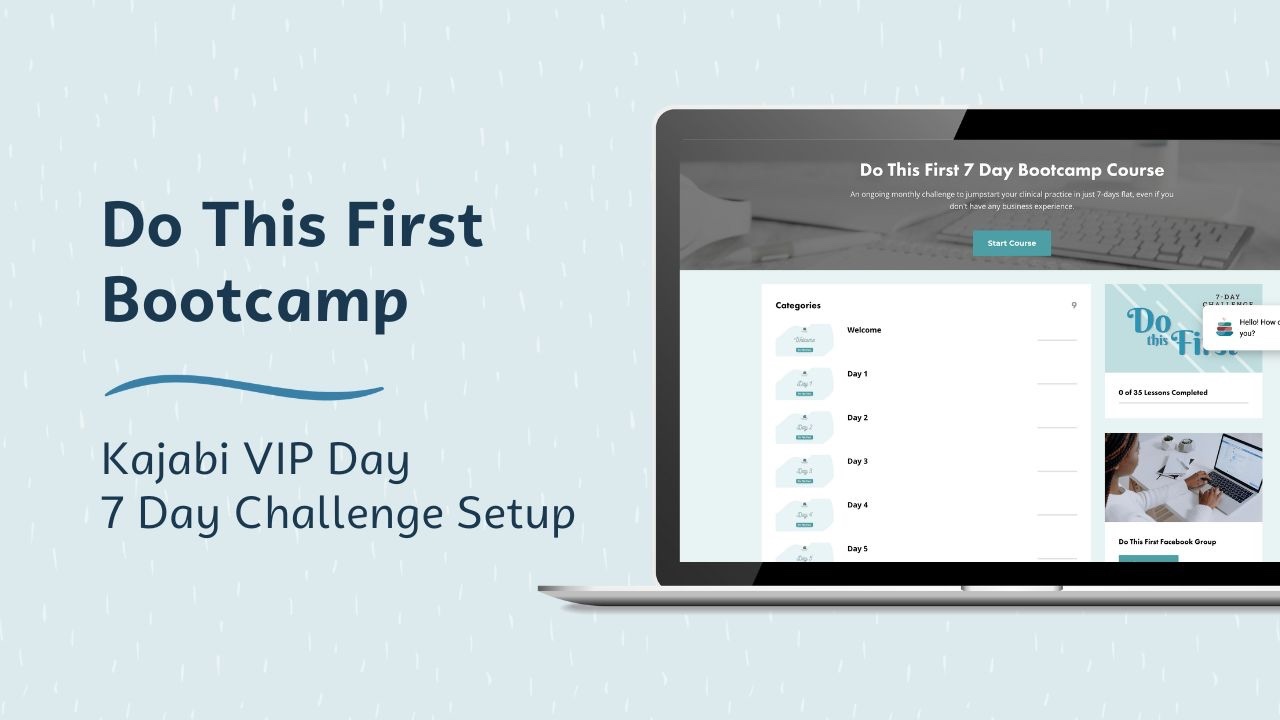 Kajabi 7 Day Challenge Setup
1 VIP Day
"Wow! This has been so good. The process of it coming together feels really good."
- Amity Cooper, Clinical Career Collective
Are you interested in offering a paid challenge to your audience? Kajabi can absolutely do this for you!
When Amity Cooper of Clinical Career Collective reached out to me, she explained that she needed help getting her funnel set up for a paid week-long challenge that she wanted to offer to her audience every single month. By adding the daily content to a product in Kajabi, the videos and PDFs can be drip released each of the seven days. This allows the content to be delivered throughout the challenge in a bite-sized manner with everyone participating in the challenge focused on the same action each day. For this reason, we broke the content down into the following categories: Welcome, Day 1, Day 2, Day 3, Day 4, Day 5, Day 6, Day 7, Bonuses. At the start of each new day, the new content is released! This is definitely ideal for keeping everyone on the same page and facilitating discussions in the Facebook group that is included with the challenge. Check out everything that we got set up for her funnel!
What We Accomplished:
✔️ Set up the product & uploaded all the video and PDF content for the challenge
✔️ Matched the Kajabi premier theme to her branding
✔️ Added a Q&A form to each day of content
✔️ Set up two pricing options
✔️ Set up thank you page
✔️ Added a form to the thank you page to collect purchasers' mailing addresses
✔️ Set up Zapier to send purchasers' addresses to a spreadsheet so that a box of goodies could be mailed to them!

It was such a joy watching this project come to life over the VIP Day! Amity has such a passion for working with recently graduated therapists to support them in setting up their business structures and this challenge will be one way she can serve them well. You can learn more about the challenge on Amity's website at clinicalcareercollective.com.
Cheers!
*Affiliate links are present on this page. I only recommend products I use and love!
New to Kajabi? Grab my

Get Started Quick Guide

to get all your site settings in place first!
Enter your name and email to get it delivered straight to your inbox!
We hate SPAM. We will never sell your information, for any reason.