Client Showcase: Leading to Luxury
Nov 13, 2023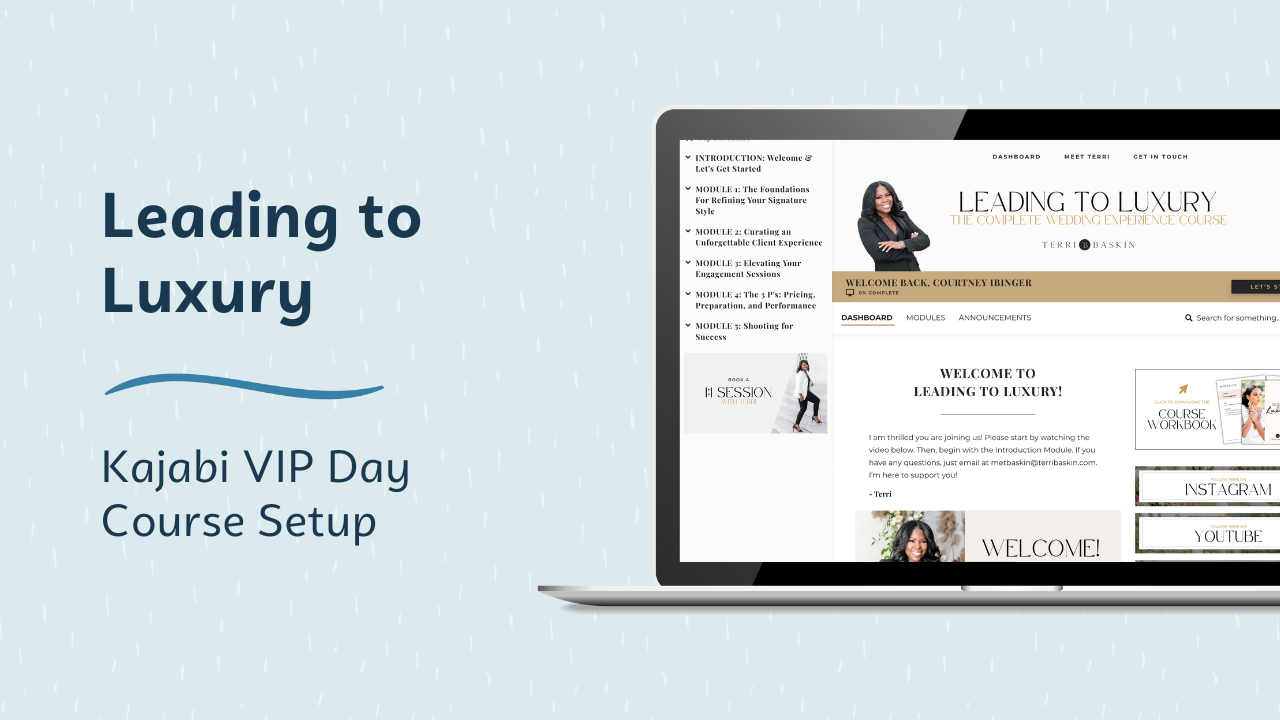 Kajabi Course Setup
1 VIP Day
"Thank you so much for everything!!! I'm so happy!! It's been a long time coming!"
~ Terri Baskin, Terri Baskin Photography
Whenever I get to work with someone launching their very first course on Kajabi, I get SO excited! Terri is a luxury wedding photographer and worked with Chad & Becca Campbell of The Course Company to create and film all the content for her course. Once she had all her content created, she was ready to work with me to set up the actual course inside of Kajabi. After looking at different product themes together, Terri chose the Tahnee Theme by Penny in Your Pocket.
Here are a few things I love about the Tahnee theme:



The modules are displayed in a grid format. It's easy for students to see all the course modules at a glance!
Unlike the regular Momentum theme, you can add a "hero" image at the top of the product dashboard to truly reflect your brand.
Add important "quick links" and info (you can even add your course workbook) to the righthand sidebar. (This is also available in many other themes as well!)
The course outline expands and collapses module by module. If you have a lot of content in your course, this is helpful so that your full course outline doesn't overwhelm students and they can take a look module by module.
Your students can mark lessons as "Favorites" and collect them all in one place. So great for when students want to come back to something in particular later on.

NEW!! With the latest Tahnee version, you can add clickable images to the lefthand menu. We used this spot to showcase how students can book a 1:1 call with Terri.
Here's a peek inside what an actual lesson looks like ~ SO pretty! 😍

What We Accomplished:
✔️ Set up the course product
✔️ Uploaded course videos & thumbnails
✔️ Tahnee theme by Penny in Your Pocket matched to branding
✔️ Custom-coded checkout page set up & matched to branding
✔️ Set up library & login pages and matched to branding
✔️ New custom subdomain set up
✔️ Thank you page
✔️ Welcome email
I just love how cohesive everything looks with her branding! We carried it throughout the customer experience, including on the checkout page, login page, library page, and welcome email.
Terri was just the best client to work with and I'm cheering her on for so much success with her course!! 🎉🎉
Does a Kajabi VIP Day with me sound like just what you need? Just head to courtneyibinger.com/day to get all the inside scoop on what it's like to book a VIP Day with me so you can go from stressed out to EXCITED about your course setup!!
Cheers!
New to Kajabi? Grab my

Get Started Quick Guide

to get all your site settings in place first!
Enter your name and email to get it delivered straight to your inbox!
We hate SPAM. We will never sell your information, for any reason.