Client Showcase: Rested Exclusive Membership
Jun 12, 2023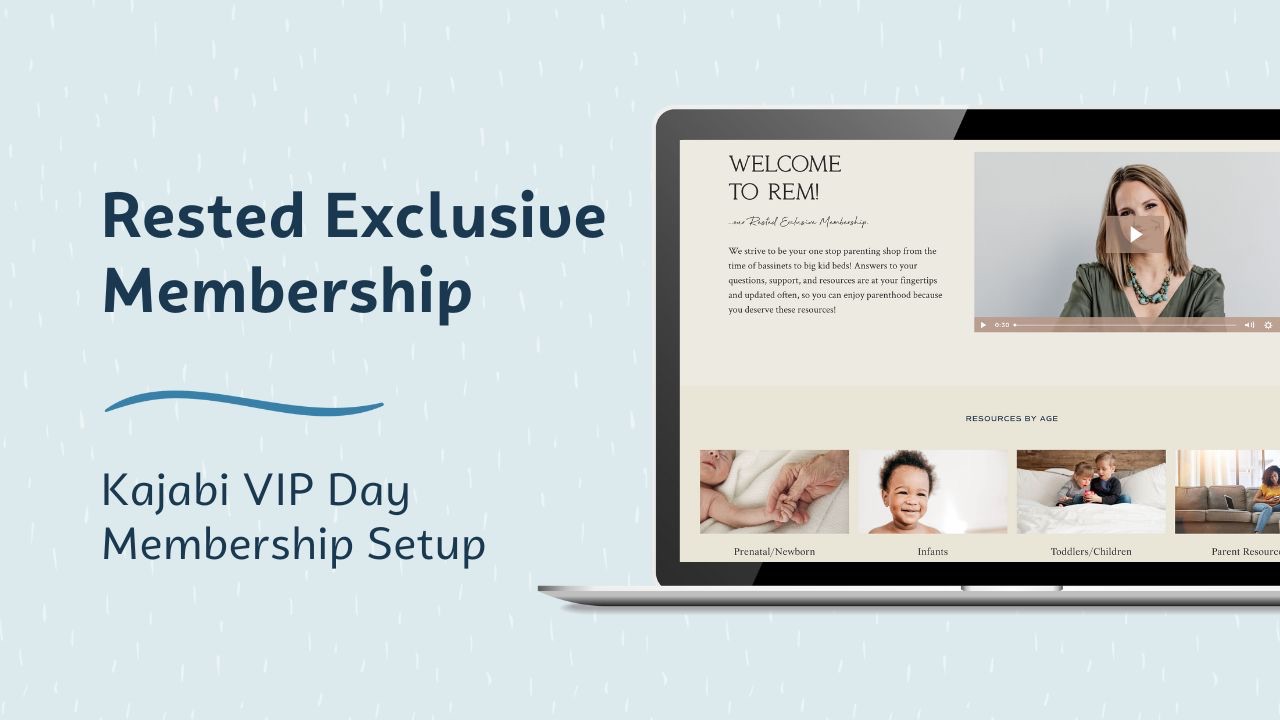 Kajabi Membership Setup
1 VIP Day
"It was truly phenomenal! I definitely got incredible value for what I paid! HIGHLY recommend and will use you again! Aaron and I were saying that hiring you was a VERY smart business decision!"
~ Katie Pitts, Sleep Wise Consulting
Katie runs a sleep consulting business and helps both kids and adults learn to sleep (and live) well. She is an amazing client that I've previously helped set up two courses for in Kajabi. For this project, they were looking at moving over REM (their Rested Exclusive Membership) from Searchie to Kajabi. (By the way, how amazing is the name REM for a sleep-focused membership?!)
They came to me with a vision in mind for how they wanted the membership set up. During the initial consultation stage, we talked through different theme options that would best fit their vision. She wanted to streamline and simplify the layout they had in Searchie so that her members could find what they wanted super easily. Since they wanted their members to be able to choose from four main categories right on the main dashboard page, we decided the Flix theme would be the best fit.
What was so fun about this project was that I got to take the membership design their graphic designer had done a mockup for in Adobe XD and then create it in Kajabi as close as I possibly could. Because we have to work off of a product theme in Kajabi, we can't always customize every little detail exactly the way we want (like on a landing page), but with some creative thinking and the help of some custom coding, we got so close to the design mockup!
I'm still always amazed at how much a product theme template can transform from beginning to end!
Here's the Flix template we used out of the box before doing any customizing or adding any of their content:
Here's the final membership after getting it all customized!
Here are a couple "hacks" we used to give the Flix theme the clean look they were looking for:
Made the welcome bar text and background the same color as the welcome section dashboard so that it disappears completely.


Made the colored tiles underneath the thumbnail images transparent so the titles would blend in with the background instead of over the colored block.
I'm so thrilled we were able to create the look and feel they were going for!
What We Accomplished:
✔️ Set up their login & library pages
✔️ Set up the membership product
✔️ Matched the Penny in Your Pocket Flix theme to the mockup their designer created
✔️ Set up the checkout pages for their subscription
✔️ Set up the thank you page
✔️ Set up the welcome email
When I asked Katie what her favorite part of the day was, she said, "Seeing my vision come to reality!" I absolutely love the excitement of my clients on their VIP Day!
I can't wait for the REM members to see the new design! If you need sleep help for you or your children, you definitely need to check out Sleep Wise Consulting!
Cheers!
New to Kajabi? Grab my

Get Started Quick Guide

to get all your site settings in place first!
Enter your name and email to get it delivered straight to your inbox!
We hate SPAM. We will never sell your information, for any reason.