Client Showcase: Songs & Stories
Mar 13, 2023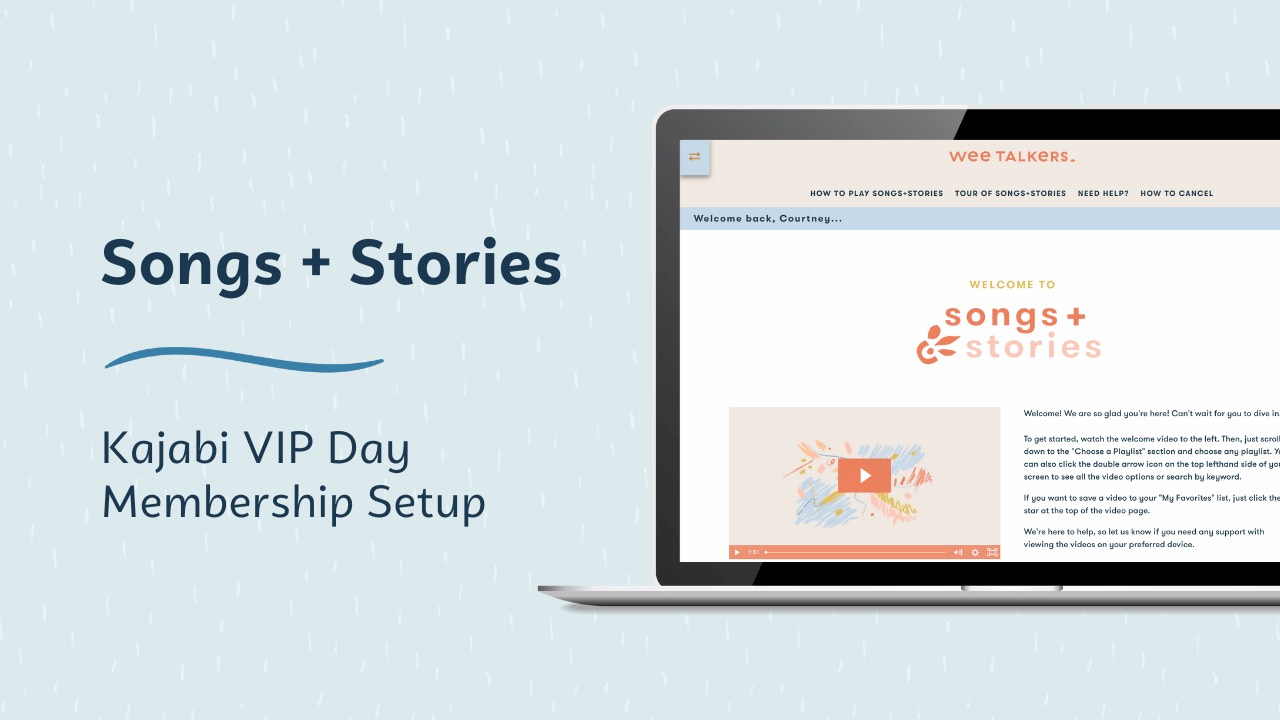 Kajabi Membership Setup
1 VIP Day
"Thank you, Courtney! It was so wonderful working with you! We are super excited about these changes and you made the whole process so enjoyable. We appreciate you so much!"
~ Carly Tulloch, Wee Talkers
I absolutely LOVED revamping this membership theme for Katie & Carly of Wee Talkers. This project was extra special because my own kids utilize the membership! Katie & Carly are pediatric speech therapists with over 25+ years of combined experience and their Songs & Stories membership is screen time I can feel good about. The videos in their membership are full of songs and stories specifically created with child development in mind. My boys love the videos and they've been especially helpful during my maternity leave trying to juggle 3 kids 3 and under.
Katie and Carly have been successfully running their membership for awhile now, but were looking to change the theme from the Premier theme they had been using. With the redesign of the theme, they also knew it was the perfect time to reorganize the content as well to make it even easier for families to navigate. So, on the VIP Day, I reorganized all their videos from just two categories (songs and stories) into a variety of themed playlists for viewers to choose from, including Featured Content, Animals, Things That Go, Winter, and more.
Since some of the videos could work in multiple different playlists, I was able to use the handy "Import Lesson" feature. This feature allows you to take one lesson and duplicate it exactly - either in a completely different product, or in this case, in the same product but in another category. If you haven't tried this feature out yet, check out this YouTube video walking you through how it works:
As for the theme redesign, they chose the Flix theme by Penny in Your Pocket and it was the perfect choice for this interactive membership! When members scroll through the videos, it feels more like they are surfing Netflix than actually inside a Kajabi product.
What We Accomplished:
✔️ Reorganized the membership content
✔️ Flix theme by Penny in Your Pocket matched to branding
✔️ Set up custom fonts inside Flix theme product
✔️ New thumbnail images added for all the songs lessons

Have a course or membership already in Kajabi that you are looking to revamp? Just head to courtneyibinger.com/day to get the inside scoop on what it's like to book a VIP Day with me.
Do you have young kiddos? Check out the Wee Talkers courses & membership here if you want to get support with getting your little one to talk and communicate. I can't say enough great things about Katie & Carly!
Cheers!
New to Kajabi? Grab my

Get Started Quick Guide

to get all your site settings in place first!
Enter your name and email to get it delivered straight to your inbox!
We hate SPAM. We will never sell your information, for any reason.