Client Showcase: The Sleep Sorority
Feb 27, 2023
Kajabi Membership Setup
1 VIP Day
Becca Campbell, The Sleep Sorority
This was such a FUN membership transformation! When Becca Campbell of The Sleep Sorority came to me looking to revamp her membership with a new theme, it was an immediate yes from me. I actually helped Becca rework the membership about a year prior from the free Kajabi Momentum theme to the Solid Lines theme by Penny in Your Pocket, but when she saw the possibilities with the Flix theme by Penny in Your Pocket, she knew she wanted to update it again.
So, what made Becca want to switch over to the Flix theme? For a more interactive experience for her members when searching through content (it's set up more like Netflix) with the ability for them to add lessons they want to watch to their "queue." Since Becca's membership is full of sleep consultants all at different stages in their business, the lessons that apply most to them are unique for each person. By having them curate their own list of content to watch, they can focus on the lessons that pertain the most to them first. The Flix theme is the only theme that displays this list of their favorite lessons right on their main dashboard page, like this: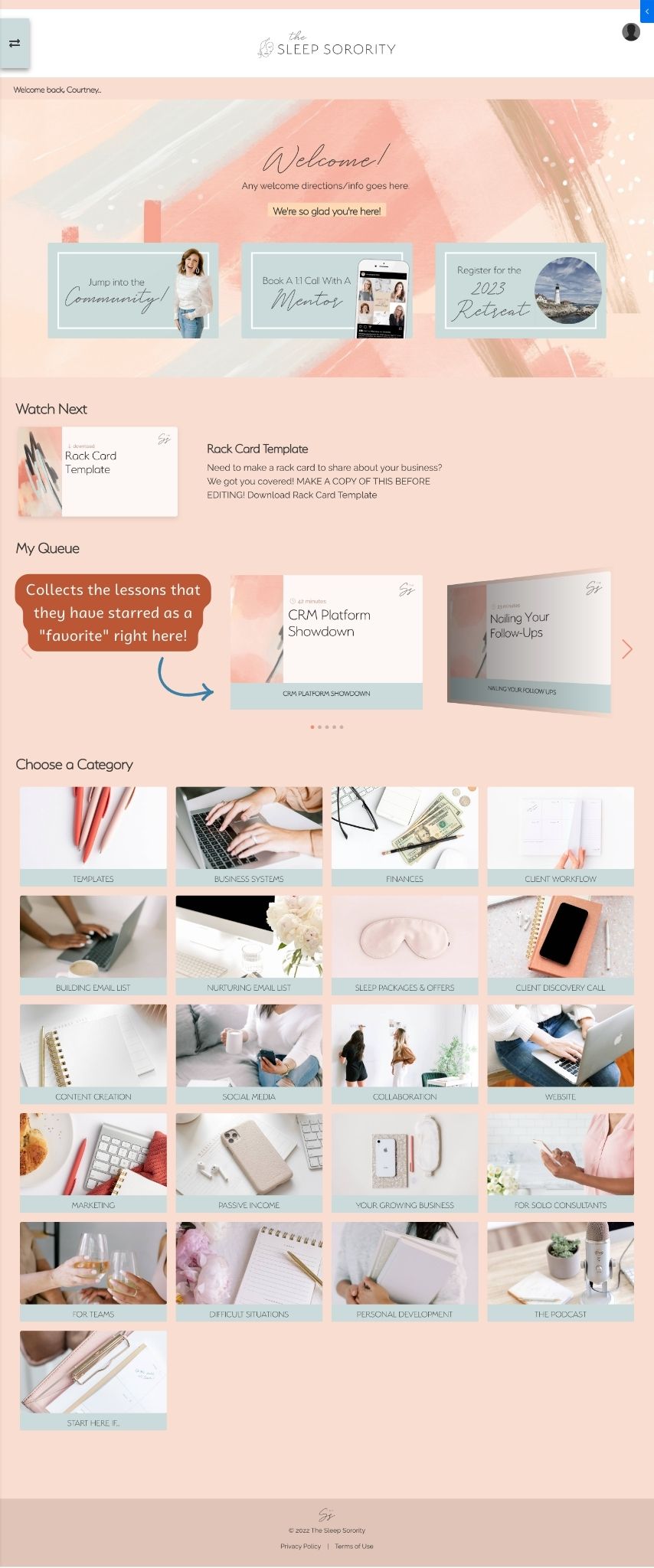 Becca also had the amazing idea of adding the length of the video or audio lesson right to the thumbnail image. This allows for her members to quickly see at a glance how much time they would need to complete the lesson, as some range from just text-based lessons or audio lessons that are just a few minutes long, while others are 30+ minute videos. This way, as they scan through the lessons, they can easily pick and choose what they have time for at that specific moment.
We also took the time to delete some older lessons out and re-organize the remaining lessons into new categories. Becca did a lot of thinking ahead of the VIP Day about how to group the lessons together in a way that would be the easiest for her members to find exactly what they are looking for!
Finally, it was SO fun setting up the theme branding as Becca's website designer had just created some new custom background designs for a website update, so we were able to incorporate those into the Flix theme design and the thumbnail images which made everything look stunning! It was the perfect timing to refresh her membership by incorporating these new brand designs as well.
What We Accomplished:
✔️ Flix theme by Penny in Your Pocket matched to branding
✔️ New thumbnail images created with length of each lesson
✔️ Lesson content rearranged into new categories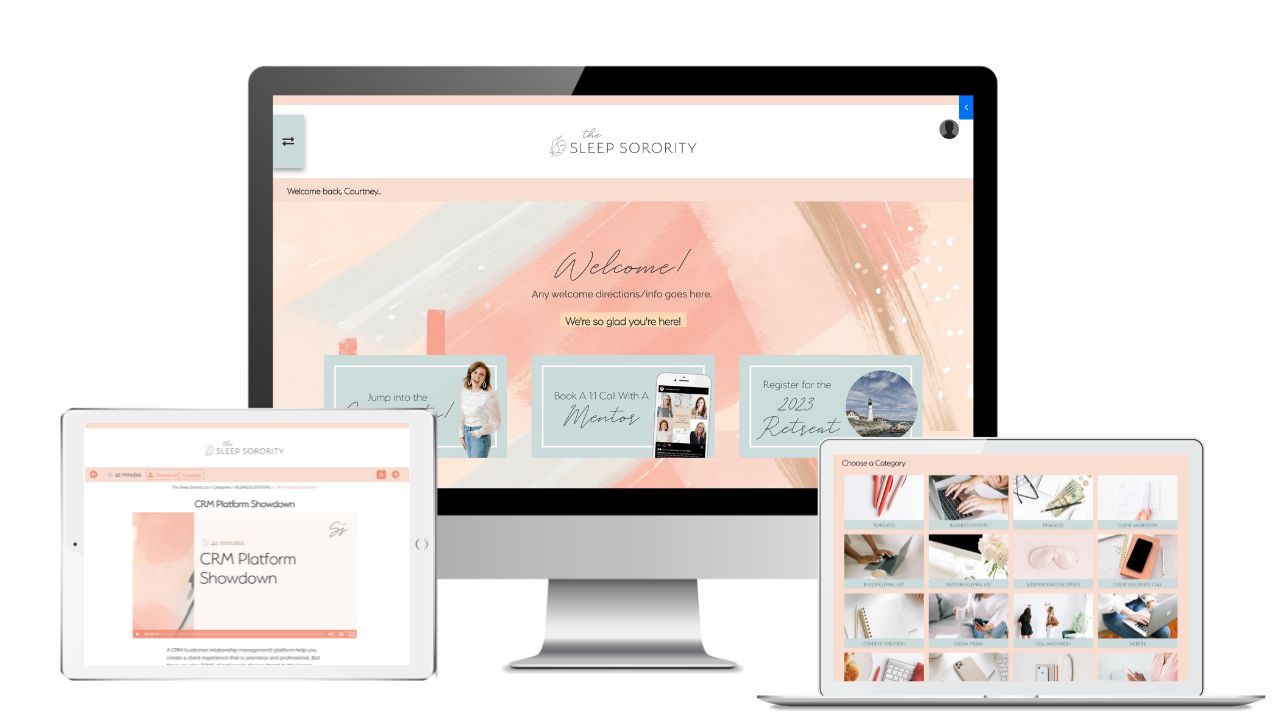 If you're a sleep consultant and you haven't heard of The Sleep Sorority before, you need to run over here to check out Becca's membership!!
You can check out Becca's post with a behind-the-scenes video of the new layout on her IG here, too!
Already have a course or membership on Kajabi like Becca, but want it refreshed with a new theme and design? We can do that in a VIP Day! Just head to courtneyibinger.com/day to get all the inside scoop on what it's like to book a VIP Day with me.
Cheers!
New to Kajabi? Grab my

Get Started Quick Guide

to get all your site settings in place first!
Enter your name and email to get it delivered straight to your inbox!
We hate SPAM. We will never sell your information, for any reason.