How to Import a Lesson From One Course To Another Course
Jan 16, 2023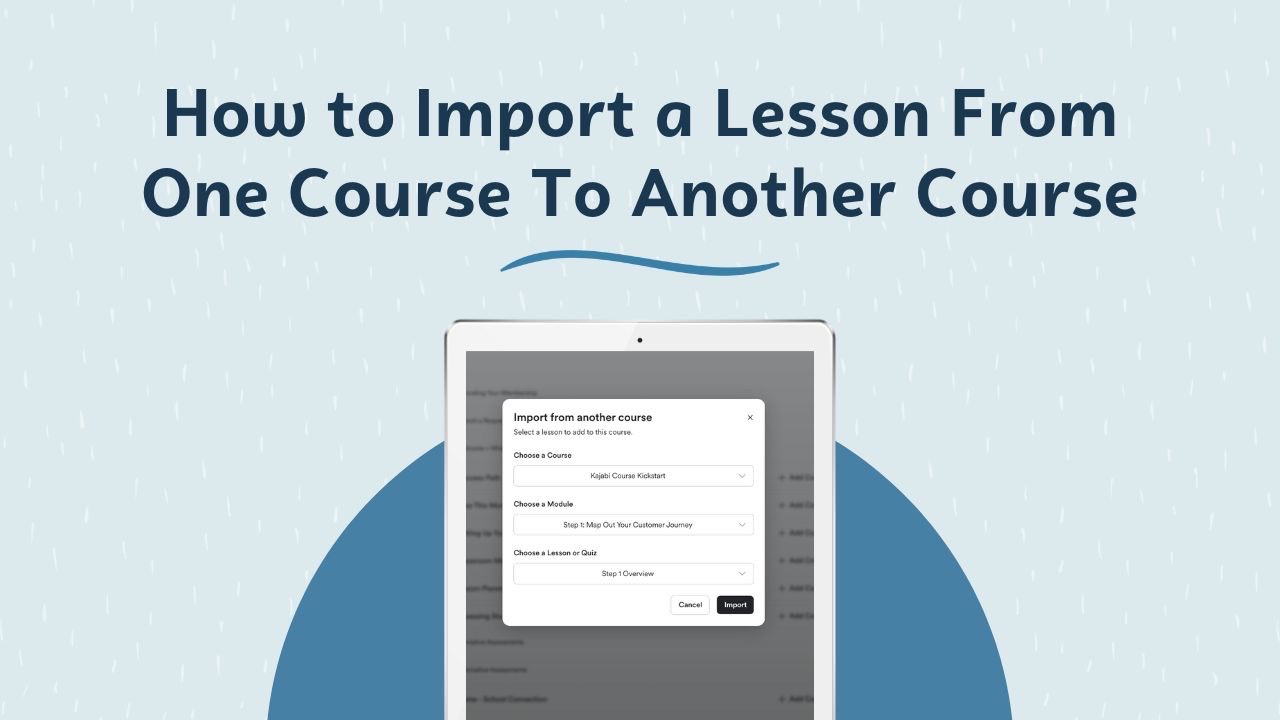 Have you ever created an amazing lesson in one of your courses and then wanted to re-use it in a completely different product? Then you wouldn't be the first person! This newer Kajabi feature has been requested for years and is now available to you!
Before this new feature was released, if you wanted to copy or clone a lesson from one product to another there was no easy way to do that. You would just have to re-create the lesson from scratch by re-uploading the video, adding in the lesson text and any downloads, etc. (Not the end of the world, but every second counts, right?)
Now with just a few clicks of the mouse, you can copy over an already existing lesson from one product to another.
Just head to your product that you would like to add the lesson to and find the module you would like to add it to. Click on the "+Add Content" button and choose the "Import from another course" option. That will bring up this screen that allows you to choose the lesson you would like to copy over.
Just click "Import" and the entire lesson will copy over! Then, you can go into the newly created lesson and make any adjustments to the lesson text, downloads, thumbnail, etc. as necessary.
Watch this quick video tutorial to see this in action!

You can even "import" a lesson from within the same product! Now, why would you want to do that? Here's one scenario: you have a membership product with tons of different categories. You want the same lesson to show up in multiple categories, instead of just in one place. You can create the lesson once, then import it to the other categories you'd like it to also appear in without having to manually create the lesson multiple times.
Have you used this feature yet? Have you found it helpful? I'd love to know! Send me an email at [email protected] or go comment on the YouTube video here.
New to Kajabi? Grab my

Get Started Quick Guide

to get all your site settings in place first!
Enter your name and email to get it delivered straight to your inbox!
We hate SPAM. We will never sell your information, for any reason.