Multi-Factor Authentication in Kajabi
Nov 21, 2022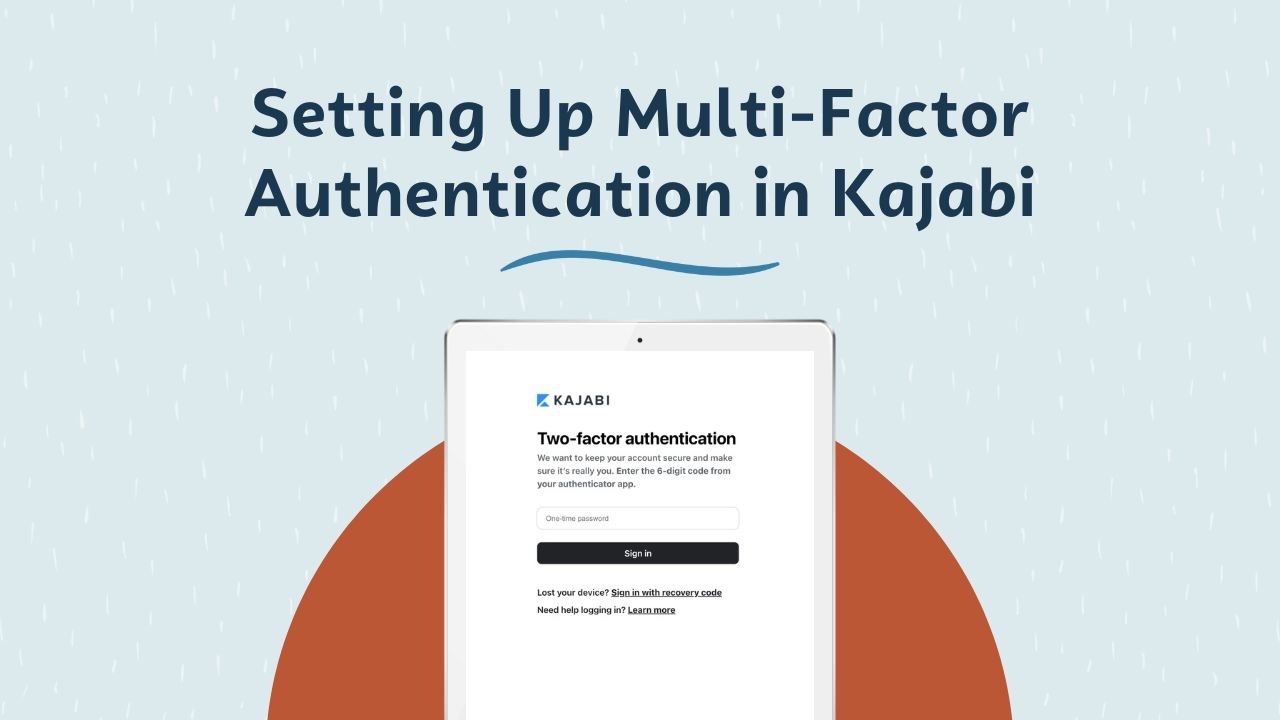 The pros of having an online business? Complete time and location freedom! 🕒🌴
One major con - your entire business could be wiped out in one fell swoop by malicious hackers. 😭
So, what's one to do? Implement some measures to protect yourself as best as you can.
For example, keeping your contacts list and website/landing pages backed up can come in *very* handy if everything disappears from your Kajabi account. Watch the videos on YouTube to learn how.
And a new feature that Kajabi has just recently released: multi-factor authentication.
What is Multi-Factor Authentication?
You've likely used two-factor or multi-factor authentication already on other sites like Facebook, your online banking institution, Apple, etc. Whenever you need to provide a special one-time code after logging in with your email/username and password, that's multi-factor authentication. By having that extra step in place, it can prevent hackers from being able to breach your account with just your username and password alone.
If you're active in the Official Kajabi Hero Community on Facebook, you have likely seen posts about Kajabi users' accounts having all their contacts deleted and/or spam emails being sent out. To read the full update from Kajabi, just click here. To summarize, the Kajabi platform as a whole was not breached, but hackers were able to obtain a select number of login credentials elsewhere so that they were able to gain unauthorized access to Kajabi accounts.
Tips for Securing Your Account
The best tips for securing your account(s) as much as possible include:
Use unique and complex passwords at least 10 characters in length on all online accounts, like Kajabi, banking, payment processing, etc.

Use a password manager that can create and store the complex and unique passwords for you.

Set up multi-factor authentication (MFA) wherever possible.
How to Set Up Multi-Factor Authentication
To set up the MFA in your Kajabi account, log in and click on Settings. Scroll down to Account settings and click on Password & Security.
Click on "Set up Authenticator."
Follow the instructions to install an authenticator app, like Google Authenticator, and enter the code on screen.
Once enabled, the next time you log in, you'll be asked to enter a one-time code after entering your email and password. Just head to your authenticator app on your phone and get the code to enter.
Want to watch a video tutorial walking you through the steps to set up MFA? Here you go!
Adding a Virtual Assistant or Other Account User to Your Account
Do you have a virtual assistant or freelancer that is doing work in your Kajabi account? Instead of giving them *your* login credentials, make sure to set up a separate user account for them. Watch this video showing you how to add them as a user.
Then, once they are added as a user, they can log in with their own login credentials and follow the same steps above to set up MFA. When set up this way, they won't need to contact you every time they login to get the unique code from you.
Don't forget to remind them to log out after they are done working in your account. Once they no longer need access, just click into their user account and suspend them as a user. Then, their login credentials will no longer work to access your account.
Find this helpful? Make sure to go hit that "Subscribe" button on my YouTube channel to get notified of any new Kajabi video tutorials. You can also follow me on Instagram here (make sure to dm me a hello 👋) or check out my free resources here! Looking forward to connecting!
Cheers!
New to Kajabi? Grab my

Get Started Quick Guide

to get all your site settings in place first!
Enter your name and email to get it delivered straight to your inbox!
We hate SPAM. We will never sell your information, for any reason.